The Silica (Sand!) of Mineral Makeup
Silica (SiO2) is just one of the many forms of minerals that are used as an ingredient of various mineral makeup formulations.  Who would even think that we apply sand to our faces with mineral makeup? Don't entertain any negative idea just yet; having sand in our makeup is actually not a bad thing. Since mineral makeup is known to be based on natural earth resources, it surely uses natural forms of sand as a base. And not just any sand, it uses SiO2-the natural anti-aging, collagen-production-aiding makeup ingredient.
Silica is just one of the many forms of minerals that are used as an ingredient of various mineral makeup formulations. Sourced from the earth, this crushed quartz comes in the form of silicon dioxide and hydrated silica. Silica and silicon dioxide are bound to oxygen molecules while hydrated silica is bound to water molecules. On the other hand, the hydrated silica is actually a form of silicon dioxide that is bound to variable amounts of water. SiO2 is naturally found in nature as sand or quartz, it is also the most abundant mineral on earth.
A Beach of Sand (Silica!) and Stones: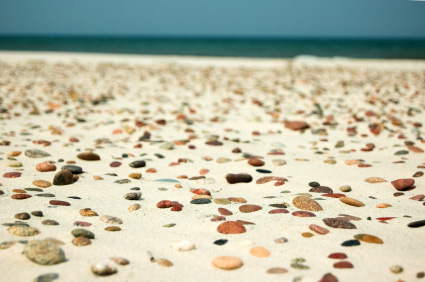 Silica is found and sourced in the earth crust, forming an important constituent of virtually all rock-forming minerals. SiO2 is actually found in a number of forms, including quartz crystals like Herkimer diamonds, quartz sand or silica sand, smokey quartz, idocrase, black tourmaline, green tourmaline, emerald, anyolite, rhodonite, tigers-eye, tiger iron, chrysoprase, quartzite, massive forming hills, sandstone, diatomite, Tripoli, flint, opal, moldavite, tektite, chalcedonics, carnelian, blue chalcedony, heliotrope (bloodstone), obsidian, and onyx. It may even take the form of a purple quartz (amethyst), smoky quartz, yellow quartz or fake topaz, rose quartz and milky quartz. However, it is not found in pure and untwined crystal or rock quartz. What makes the quartz form of SiO2 special is chemical and physical stability and high elasticity.
In general, silica is the combination of two most common earth elements- oxygen and silicon. In crystalline form, quartz can present SiO2 in silicone dioxide form. A special man-made quartz with amazing healing stone abilities is siberian blue quartz. This mineral is essentially found in a number of healing crystals that contain quartz such as sodalite, moss-agate, kyanite, garnets including tsavorite and uvarovite, epidote, chalcedony, agate, jasper, ocean jasper, flint, chert: silexite, petrosilex, phthanite, hornstone, petrified wood, moonstone, amethyst, aquamarine, aventurine, blue lace agate, citrine, golden citrine herkimer onyx, rose quartz and olivine. SiO2 is even found in other rock forming minerals such as dumortierite, granite, opal, carnelian, tiger's eye and tiger iron, rhyolite, sard, chrysoprase, pegmatite, peridot, fuschite, garnet, serpentine and calcite. Among cosmetics and personal care products, SiO2 is used as abrasives, oil absorbant, anti-caking agents, bulking and opacifying agents, suspending agents, skin conditioning agent and viscosity increasing agent. The SiO2 used in these applications is in its amorphous form, the one that has no clear order to the arrangement of its atoms, making it easy to bind with other natural mineral makeup ingredients. This form of SiO2 mineral has been successfully used in hypoallergenic and allergy tested formulations. Mineral makeup brands usually do not capitalize using crystalline forms of SiO2, being aware that it may be contaminated with small amounts of crystalline quartz, which is considered to be carcinogenic. Makeup brands and manufacturing companies use SiO2 forms that are safe and FDA approved.
Silica is primarily used in oil control products because of its excellent oil absorption properties. It also comes as a major ingredient of oil control primer and various forms of finishing powder. This function is particularly useful when you have oily skin. Because of its ability to scatter light (light diffusion properties), mineral makeup uses it as a filler and base to effectively and seamlessly lighten or blur fine lines and wrinkles. When used in powders and foundations, SiO2 allows the makeup to luxuriously slip on the skin. Interestingly, the mineral was also found to have excellent oil-control properties. It is oil absorbent, which enables various mineral makeups' to stay on longer; much like creating a freshly applied look even after hours of application.
Usually, silica is soft to touch, white in appearance and almost invisible when applied on skin. This makes it great filler for mineral-based cosmetic products. Because the form SiO2 used in the manufacture of this product has no definite arrangement of mineral atoms, it easily binds and blends with other makeup ingredients, adding softness and slip to the finished product. In effect, it makes products that are ideal in hiding skin imperfections such as foundations and oil control powders. Its marvelous matifying properties effectively reduce shine and are even famous among noted Hollywood makeup artists, creating a flawless effect that is great for television and film.
As an abrasive, silica is very effective in removing unwanted tissues such as dead skin cells and calluses and other forms of imperfection. It is typically used to refine or fine course and irregularly solids, producing gloss as a result (nail polish). Harder abrasives make use of hydrated SiO2. They are used for tooth cleansing as in removing plaque.
As an anti-caking agent, it prevents lumps from forming out of your makeup and other caking conditions caused by hygroscopicity. This property makes it an ideal ingredient for loose powders.
Silica's Cosmetic Use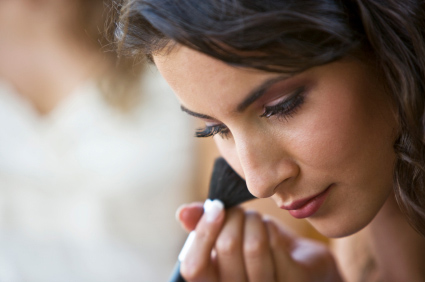 Of all the minerals, silica is the most underrated and misunderstood. It aside from its earth form, SiO2 is also the seventh most prevalent element in the human tissue, next to calcium. Lab test results have found that the mineral is essential in collagen production and calcium absorption. Hence, its immense health benefits are also extended in its addition to various mineral makeup formulations. SiO2 is a great ingredient that jives well on cosmetic products, particularly those that are made for of individuals who are suffering from oily skin.
All photos are from istock.com
back to the top of silica page
---
Have A Great Story About This Topic?
Do you have a great story about this? Share it!
What Other Visitors Have Said
Click below to see contributions from other visitors to this page...

For Buyers of Silica Not rated yet
For those interested in buying silica in the philippines, please e-mail me at raymund_perez@yahoo.com. we have a 12-hectare lot up in the mountains in …
---

Don't just build a website, build a web business!
Beauty is just a click away! Visit me, your Independent Beauty Consultant.
---

Don't just build a website, build a web business!
Beauty is just a click away! Visit me, your Independent Beauty Consultant.