Mysterious Moldavite
Moldavite is the mystical green stone is among the rarest variety of tektite, formed from a meteoritic action. This makes it a sedimentary rock type. It was discovered in Czechoslovakia and was believed to have developed 15 million years ago. With its extra-terrestrial origin, the stone is believed to have served the inhabitants of the planet by stimulating spiritual journey to health and fulfillment in life. It carries a distinct line of energy and chakra properties that translates a mirage of life and energy into reality. With its immense potential to access higher dimensions of galactic energies, the stone has the capacity to draw thought patterns and light vibrations for optimal ascension and illumination, which delivers significant benefits to the physical as well as spiritual aspects its holder's body.
A Moldavite Section (from flickr):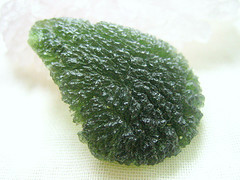 Legendary Story
Legends tell that the stone is considered a holy relic that fell from the heavens. It is associated to the Holy Grail, with the belief that the item was not a cup but a powerful stone. It has attracted attention through the ages, from its first recorded reference in 1787 up to present. 25,000 years ago, the Neolithic people and the famed Venus of Willendorf, was noted to have discovered and devoted a digging site for Moldavite, which was treated as a valuable amulet. Its value even came close to the more popularly known emerald, being used as a medium for bartering during the middle ages.
A Tektite Family Stone (A Meteorite)
A member of the tektite family, Moldavite was formed when a giant meteorite struck the surface of the earth. It is a gassy mixture of silicon dioxide, aluminum oxide and other metal oxides with an amorphous crystal structure. Silica is found in mineral makeup as well as Kaolin clay which contains minute aluminum elements. A mystical green rock has resulted from the impact. The heat resulting from the impact has metamorphosized the surrounding rocks, fusing extraterrestrial energies with scope that is beyond what Mother Earth originally has. A good color of Moldavite would be olive green and forest green. The scattering of the formation of Moldavites caused the variety in shape, texture, size and color of the stone mineral. While it is known for its rare opacity and green tone, Moldavite is an extremely rare gem. Owning one would mean owning a piece of the stars, owning a talisman that brings about wellness and health through positive alignments and openings of cosmic energy and chakra elements. During the Stone Age, the stone was used as a talisman as it is believed to bring good fortune and fertility. Later on, man discovered the stone's cosmic connections, its purpose as a cosmic messenger.
Special Properties
A mineral associated with the third-eye chakra, the crown of chakra and the heart of chakra, Moldavite is regarded as the more powerful healing stone. It was believed to be the only stone that has the capacity to activate any and all of the chakras. Being a high-vibration stone, it promotes blockage to wounds with resonance to one's energetic system. This resonance refers to the synchronicities that can increase the frequency and significance of physical, emotional and spiritual healing. The resonance of energy pattern creates intense vitality and is believed to accelerate one's progress to the path of his highest destiny, which is very much the same effect that legends refer to be received by the ones that are exposed to the fabled Stone of the Grail.
Being a storm element stone; the mystical green stone also represents massive transformation, cleansing and positive change. It can activate the entire chakra system with its intense frequency, thanks to its high vibration property. It has the capacity to crack open the psychic channels to propel energy of massive destruction, much like a hurricane. However, this should not scare you for through the psychic debris, the green stone facilitates spiritual renewal and development. It simply propels you into a spiritual path. For a person addicted to surety and safety, the stone tolerates a qualifying addendum that allows that person to release whatever he may be holding back, invoking the power of its ally to guide his spirit to gracefully to the path where he can find purpose and live a full life.
Faceted Moldavite (from flickr):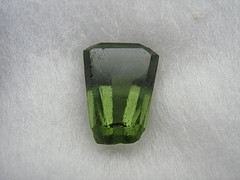 Spiritual, Emotional and Physical Healing
Aside from its life-changing properties through cosmic journeys, Moldavite is also a cosmic attunement stone. It makes an ideal complement to spiritual counseling. It enhances the dream state which helps people meditate, although it may carry frequency adjustment symptoms such as headache, hot flashes, dizziness or nausea. The stone is an ally to approach when someone is seeking a spiritual, emotional and physical journey to healing. It promotes expanded awareness to spiritual experiences in invoking cosmic energies and chakra systems that promotes spiritual healing. For a person hiding behind a deep dark fear in keeping secrets and shadows to life, Moldavite brings these dark aspects of life to the surface, allowing that person to face reality and put light into the depths dark aspects of his life. As an activation stone, the mineral takes on the roots and causes of the imbalance that bring about physical illnesses. Through these aspects of healing, the mineral facilitates a period of affirmation where its bearer invokes the highest manifestation of his destiny.
Overview
Moldavite is a high vibration and a cardinal Storm elemental stone that is believed to take hold of the piece of the legend told about the Stone of the Grail. It aligns energies which bring about compassion, security, and empathy while helping its holder find the gift to cure physical illnesses from their root and ways to soothe emotional trauma. It was found to have carried a divine blueprint, which accelerates spiritual growth. It also carries the properties written on the Akashic Record, its light body is intended to be processed to be made conscious. Hence, the cosmic properties of the green stone called Moldavite influences its holder to go forward in life, seeing bountiful results from the present actions that bring about the learning of everything that is needed to prevent destructions in the future.
Moldavite Crystal Combinations
When Moldavite is used with the individuality-prosperity stone Uvarovite Garnet, transformative energies prevail! When Moldavite is used with the prosperity-health stone Tsavorite Garnet, the energy behind the manifestation of financial prosperity is boundless.
Beauty is just a click away! Visit me, your Independent Beauty Consultant.
back to the top of moldavite page
---
Have A Great Story About This Topic?
Do you have a great story about this? Share it!
---

Don't just build a website, build a web business!
Beauty is just a click away! Visit me, your Independent Beauty Consultant.