This Website is for those Seeking Good Health, Healing and Happiness
Elements of Healing Stones found in Mineral Makeup!
Why does mineral makeup look so good? Why does it feel so good? What's the secret behind your glowing skin? Why do minerals seem to change your life? Could it be that there is a God-given energy hidden in them? It is widely believed that there are healing properties and unique powers hidden in the Earth's minerals. These small particles come from many known healing stones. Even the energy balance practise of Chinese Feng Shui says crystals create positive energy in your life, your finances and your relationships.
There is an essence of a higher power on your face! It's no wonder you feel so good wearing it.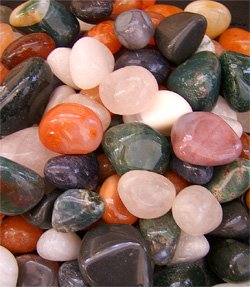 Essence of Mineral Makeup helps...
*Find the stones that make the ingredients.
*Explore the cosmetic colors and what these colors symbolize. With samples, you can try the mineral makeup colors and feel how they enhance your mood, uplift your self esteem, and add to the glow of your personality.
*Learn mineral makeup application tips in their different forms: powder, pressed and liquid.
*Answer how it is effective for rosacea, mature skin, sensitive skin, light, dark, dry and oily skin.
*Investigate the energy of healing stones.
We will learn these things here. We will expand our mental horizons, abilities and opportunities; gaining freedom to think, communicate and act unhindered.
This is your invitation toward personal discovery hidden in the natural minerals of Earth that you wear on your face.
Let's keep in touch!
Interested in self development? Learn possible energy signatures that cause health disorders. Would love to share the monthly Mineral Essence E-zine featuring a crystal perscription that will naturally ease your physical, emotional, mental or spiritual malady and help you feel beautiful.
After completing the form below, you will receive an email asking you to confirm the address given just to be sure someone did not submit your email address without your knowledge.
Semi-Precious Stone Jewelery - mostly necklaces - made by my friend, Tatijana, can be viewed by clicking here.
Mineral Makeup Essence Blog keeps you informed with all additions and changes to the essence-of-mineral-makeup.com Web site. Subscribe here.
There are hidden natural mineral makeup benefits. Minerals are building blocks to crystals which contain special healing benefits. It is no wonder mineral make-up benefits every skin type out there.
Although mineral makeup has virtually exploded in sales and popularity in the beauty market, the secret to its marketability lies on one earth mineral- Zinc.
Magnesium is great for your body, but it's also good on your skin. There are so many kinds of magnesium, which is the best in mineral makeup?
Titanium dioxide is a naturally occurring mineral from the oxide of titanium. It's natural mineral sun protection and concealer, but what do you really know about it?
Bismuth Oxychloride is famous for bringing the silky feel-effect on certain mineral makeup, but how safe is it?
Iron Oxides provide many colors for cosmetic products, especially in mineral make-up. What do you know of them?
The main mineral in mineral makeup is mica. Their colors shine, shimmer and glitter in all forms, how many do you know about?
Silica is not just any old sand when it comes in makeup, it has the natural anti-aging, collagen-production-aiding properties.
Ultramarine blue...Cleopatra...Helen of Troy...Where did their entrancing shade of blue eye shadows come from to be used in today's mineral makeup.
Kaolin clay, another earthy mineral that helps mineral makeup produce your flawless finish and glowing skin.
Boron Nitride is the white fluffy powder that makes your skin so soft, but there is more behind its use in mineral makeup.
Prussian Blue color has many names in today's world of mineral makeup one of which is a chemical sounding name ferric ferrocyanide.
Botanical minerals deliver clean, pure and high-quality natural makeup ingredients in every product. Organic makeup uses botanical minerals as its primary ingredient.
Anti-aging antioxidants in mineral makeup make keeping the skin healthy and looking great easy.
Crystal meanings are found in the combination of minerals that translates into fantastic looking skin. Here is your chance to find the crystal meaning healing properties in mineral makeup.
Metaphysics is used as a beginning explanation of why minerals found in healing stoness give you a glowing complexion through mineral makeup.
In order to fully experience crystal benefits, it's important to follow certain procedures in crystal application.
Crystal therapy is basically an art of laying-on-of-stones corrects imbalances for natural healing.
Color therapy uses the electromagnetic energy that vibrates at different frequencies; we need color to maintain balance to our health.
How would you define abundance? Healing stones and their minerals play potent roles in its manifestation.
Mineral makeup application: apply the perfect balm for the skin that withstands the daily onslaught of natural elements, pollution, ultraviolet rays and other environmental and man-made hazards.
Cosmetic history reveals various makeup substances depending on what part of the world they were used in. Some were healthy. Some were lethal. Some were superstitious.
Manifesting your vision, hopes and desires through special opportunities.
Sharing links with other good websites is a great thing.
Contact me with your concerns with this website.
Privacy policy for the website called the essence of mineral makeup.