Mineral Blush
All kinds of mineral make up including mineral blush are increasingly becoming popular these days. The advantage of using a mineral makeup blush is that besides being completely natural and beneficial for your skin, it gives you a natural look as well. Moreover, with mineral makeup blush you don't have to worry about clogged pores and be assured that your skin will breathe well in spite of the heavy application. Apart from that, since a small amount is sufficient, mineral makeup blush is pretty economical in the long run.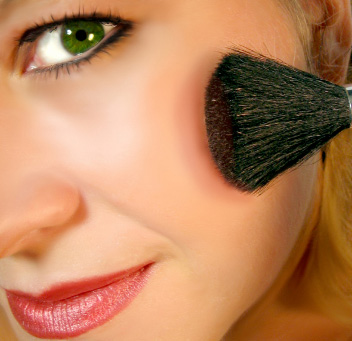 The Correct Color
The right way of applying the mineral makeup blush is important. The first step in this direction is choosing the right color. Generally you will find that mineral blushes come in variety of colors like mauve, rose, pink, orange, copper and peach, with various shades just like regular blushes. Moreover, most of the times the blush will look lighter when it is applied than when it is in the container. Dark red and dark auburn are also shades which are used for dark skins.
Application Instructions
The rule of the thumb is that pinks and peaches generally suit women with light complexion while rose or coral colors are good for medium skins. Darker skins do well with berry or wine shades. To ensure that the mineral makeup blush looks well on you, you need to apply it after applying a generous helping of moisturizer. Applying on dry skin will make the skin look powdery.
For loose powder blush: 1. Shake a very small amount of the mineral blush into the cap of the blush packaging. 2. Dip and swirl the brush in it and then smile and apply the blush to the apples of your cheeks. 3. Gently blend it outwards by using circular motions. You need to press the blush into your skin so that it looks natural.
The best way to check on your look is by looking at it in the natural light. Once you are satisfied with the application, then you can set it with a light layer of mineral powder so that it stays in place. You need to use a little amount at a time so that you don't end up with a stripy look. Though application of powdered blush can be a tricky affair, you can avoid all these problems by using pressed powder mineral blush which is easy and convenient to use.
For pressed mineral powder, applying blush goes simply: 1. Swipe cheek color brush evenly across cheek color, tapping off excess. 2. Begin applying color at the apple of the cheek bone. 3. Feather the color slightly upward and along the cheek bone, stopping at the top of the cheek bone, just below the temple. 4. Color should not begin before the pupil or extend below the nose.
Mineral Blush History
Mineral makeup blushes have been a part of the women's vanity case for ages. The Egyptians used to apply rogue (as the blush was known by the French) as early as 3000 BC. The Greeks and the Romans preferred their women with paints and hence blush was an essential part of the make up. Generally in the Roman world, it was coupled with chalk and eyelid darkener called "kohl".
The middle ages saw wealthy people using cosmetics to signal the abundance of wealth. Spanish people liked the pink blush and used it with white lead for whitening the skin. The English people used the blush with egg whites for their famous glazed complexion.
In the eighteenth century, the red rogue and white faces became quite fashionable. The British also popularized the blush in the nineteenth century and even men wore rogue. However, the rogue did not last well with men since it made them look like dandies. The Victorian Era saw make up being termed as a property of lowly people like actresses and prostitutes. The respectable people used beet root juice and cheek pinching to redden their cheeks. Powder blush was invented in 1910 and was applied with mirror and puff. The latter half of the century saw blush evolving into what it is today.
Mineral Healing
Most mineral blushes have the ability to heal your skin while making you look good. They are completely natural which means that unless you are really allergic to them, you can be assured that there will be no side effects. Besides this, the mineral blush also allows your skin to breathe with make up and heal it as well. When you apply mineral blush you are also protected from the sun since the minerals in the blush have a SPF of 20-25.
Ingredients
Mineral blush contains a variety of antioxidants, botanical minerals and minerals from the Earth that contribute toward its healthy vibrations.
Ingredients in pressed mineral powder blush could include: magnesium hydroxyl silicate , Polymethyl Methacrylate , zea mays corn starch , Octyldodecyl Lactate , zinc stearate , Dimethicone , Octyldodecyl Stearoyl Stearate , Nylon-12 , silica , isononyl isononanoate , methylparaben , imidazolidinyl urea , ethylhexyl palmitate , tocopheryl acetate, ascorbyl palmitate , retinyl palmitate , luffa cylindrica seed oil , octyldodecanol , BHT , iron oxides, mica, titanium dioxide , ultramarines , Carmine .
Cheek colors contains high quality minerals that are combined with other beneficial ingredients to get the right texture. Thanks to the combination of these minerals, the texture blends evenly with a silky touch, providing a smooth and lightweight feel with a natural and luminous finish.
How it Works
Choosing a blush can be tough. You can either test it on the inside of your forearm. It needs to stand out. Moreover, your blush will need to match the color of your lipstick. There is a
virtual makeover to try blush and cheek colors. For a balanced look apply the blush to your chin and nose. If you happen to apply more blush that required, just use a clean and dry sponge to gently soften the color. Suggested colors and skin tones can be found on the free samples page. Remember the benefits to the latest on-trend mineral blush shades: natural looking blush/adds a natural flush, high color payoff , stay-true color, fade resistant, long-lasting wear, defines cheek bones, does not settle into fine lines or wrinkles, contains natural and botanical minerals, antioxidants to prevent skin aging, weightless lightweight texture, feels silky, applies smoothly, easily evenly, suitable for sensitive skin, dermatologist tested for skin allergy and irritants, oil free and does not block pores.
If you would like to purchase pressed powder mineral blush click on this :)
back to the top of mineral blush page
back to mineral makeup application page
---
Have A Great Mineral Makeup Application Tip?
Do you have a great story about this? Share it!
---

Don't just build a website, build a web business!
Beauty is just a click away! Visit me, your Independent Beauty Consultant.