Chrysoprase Healing Stone
Chrysoprase is one of the rarest and most valuable members of the chalcedony group. It contains silica which is an ingredient found in mineral makeup. It was first discovered in Greece in 400 B.C. and was used as a gemstone for its distinct apple green color. All colors have their own special meanings. During the 14th century, mining of this healing stone started in Poland. From then on, the discovery of the mineral has spread to Australia, Brazil, South Africa, Madagascar and Russia.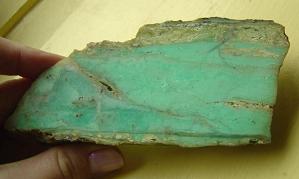 Chrysoprase Formation

Chrysoprase has a trigonal crystal system and obtains its green color from its nickel deposits. Other healing stones and mineral element meanings can be found on the crystal meaning page. It is created through a secondary process of the oxidation of salicylic acid solutions and nickel deposits. During the initial process, opal, a mineral that looks almost identical to Chrysoprase, is formed. The nickel that is dissolved out of the surrounding rocks by the solution gives the mineral its dark green color and water deposits in the crystal lattice. Once the water is lost from the lattice, the real sone is formed and the characteristic green color turns pale.
Background
In mythology, this semi-precious stone represented physical sensuality and beauty as it was assigned to the goddess Venus. However, it is better known for its "very divine love for truth". It aims at a sense of justice, which is a fine attribute of Venus. In addition to truth, it promotes optimism and personal insight. It induces deep meditative states to impart divine love for truth. It assists egotistical motives to align one's being to his ideals and behavior, which helps overcome compulsive thoughts and promotes acceptance of oneself and others.
Spiritual and Physical Healing

This chalcedony stone endows you with the alertness and wit to draw attention to random coincidences, which can perceive beneficial activity of the spiritual realm. The mineral brings about a sense of security in encouraging independence. It makes you feel to be content with your own person and accomplishments; thereby, reducing jealousy and heartache due to disappointments. It will relieve you of oppressive images and helps you deal with them. It allows you to recognize egotistical motives, which helps you reflect on your actions. Hence, it serves as a perception filter as it promotes selective perception to confirm your inner attitude.
Physically, the mineral stimulates detoxification helps stimulate liver functions. It promotes the removal of the accumulated heavy metals in the body. Aside from relieving skin diseases such as acne and psoriasis, neurodermititis and fungal infections, it also promotes fertility among women.
Metaphysical Associations

It appeals to the solar-plexus chakra or the seat of will. It brings about harmony among other influential minerals such as Ajoite, Danburite and Lepidolite among others. It unites individual desires and one's longing for the good of all by facilitating linkage between two energy centers; the heart and the solar plexus, forming the crown chakra. It helps reform these two energy points through a powerful vibration force that awakens the heart as fueled by an undivided will. It promotes a sense of being at one with the accelerated dharmic flow in one's inner and outer life.
Applications
Chrysoprase is a beautiful mineral stone with strong healing energy and strong connection to the domain of Nature spirits. Meditating with this stone helps you better connect with the Earth Mother, and also with the devas and other Earth-spirit entities. Putting it in a chain, pendant or hand comforter and wear it on a significant portion of your body to help solve your inward struggles, promoting peace in achieving a sense of personal balance. Understanding how to apply crystals is beneficial.
back to the top of chrysoprase

Don't just build a website, build a web business!
Beauty is just a click away! Visit me, your Independent Beauty Consultant.