The Healing Kyanite Mica
Kyanite is structurally an aluminum silicate and has an unusual hardness of 4.5. It contains mineral elements of silica, mica, kaolin clay found in mineral makeup. It has a triclinic crystal system which is blade like and elongated in appearance. It's commonly found in indigo, green, blue and black colors and sometimes in white, pink, gray and yellow as well. Kyanite can be found in countries like Switzerland, Brazil, South Africa, Burma, Mexico, Kenya and USA. This stone corresponds to the zodiac signs of Aries, Libra and Taurus. This stone can be used to open all chakras and help them in aligning with the aura and the higher self. This stone resonates with the numbers 2 and 4 in all its varied forms. It has special crystal meaning and it has similar physical characteristics to dumortierite.
Crystals: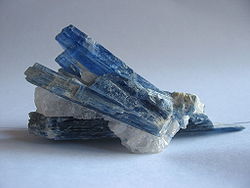 An Amplifier of Energies
Kyanite is one of the few crystals which does not need cleaning or cleansing. It is a great amplifier of high frequency energies. Perfect for meditation and attunement, this stone helps in the ascension of soul by helping it to discard blind faith. It's a great stone to connect to the higher realms and helps you to understand the true purpose of life. This stone helps the soul to mature and forges a connection between the spiritual guides and evolved masters. It even helps in recalling your dreams and promotion of healing dreams. It aids in the release of frustration and stress and dispels confusion and false beliefs. It aids in the promotion of truth by dispelling fears, ignorance and blockages. It also works and stabilizes the biomagnetic field and clears the meridians. Restoring the Qi of the physical body and organs is another function of Kyanite.
Blue Stone
The blue Kyanites are great for energy transfers since they have a very high vibration. They can enhance the mental ability of the individual to communicate with the higher realms and even draw knowledge from the higher sources with can aid in the evolution of the soul. If two people want to communicate using telepathy when separated physically, all that is required is that both use blue Kyanite. Sleeping with blue Kyanite can enhance lucid dreaming which is a great tool for solving problems and getting new ideas.
When blue Kyanite is coupled with green Kyanite then one can use high frequency vibrations for self healing.
Green Stone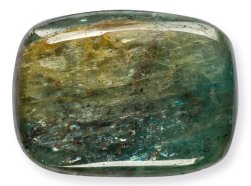 Green Kyanite is a perfect stone to know and understand the level of sincerity a person possesses. It can even know whether a person is speaking the truth or not. This stone can even help in entering the realms of the spirits and devas residing in nature. If one practices well, then this stone can help in reaching the causal plane where the events are conceived and shaped before they are manifested in the real world. This stone is great for astral travel provided one works from the heart.
Black and Indigo Stones
Black Kyanite is a great stone for removing all chakra blockages and replenishing the meridian system. Indigo Kyanite helps in discerning the truth in a situation and aids in the resolution of disputes and disagreements.
No matter what form or color Kyanite is a great stone for clearing the energy field of a person and even creating an energy shield for performing healing or psychic work. It aids in building light bridges and bridging the energy blocks.
back to the top of kyanite page
---
Have A Great Story About This Topic?
Do you have a great story about this? Share it!
What Other Visitors Have Said
Click below to see contributions from other visitors to this page...

hoppelt7@telus.net

I am a prospector for 55 years, and consider myself very successful. I have recently discovered a 13 km elongated deposit of either Kyanite as part of …
---
---

Don't just build a website, build a web business!
Beauty is just a click away! Visit me, your Independent Beauty Consultant.