Crystal Therapy
Man has long been fascinated with gemstones or crystal stones. Since the beginning of time, crystal stones have been used in many ornaments and structures creating what we call crystal therapy. Ancient records of crystal healing were discovered from Egyptian relics. There were a number of ebers papyruses that accounted to the medicinal uses of many gems. Five thousand years ago, this healing technique was also used in ancient Indian Ayurvedic and traditional Chinese medicine practices. Mayan and Native American tribes and Aborigine people also used crystals for healing, meditation and other ceremonies. Many valuable data explaining the development of crystal therapy has been lost through the years. Thankfully, the discovery of more proofs and information on the origin of crystal therapy has been recovered to impart much of its healing benefits.
Picture from Crystal Therapy, Intuitive Healing, Spiritual Counselling & more located at New Westminster, British Columbia, Canada: http://newwestminster.olx.ca/crystal-therapy-intuitive-healing-spiritual-counselling-more-iid-28224500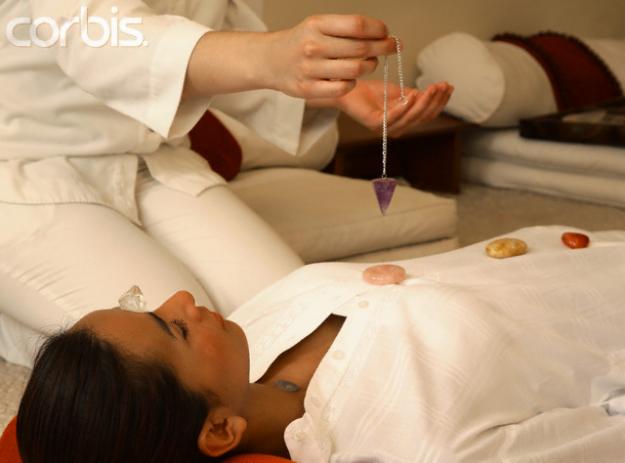 Crystal therapy is basically an art of laying-on-of-stones. With the knowledge on the body's chakra points, a trained crystal healer or therapist selects and arranges the gems, stones and crystals to resonate the kind of energy that will open the chakras. This way, the energies delivered by the arranged stones will blend in and correct the imbalances to the body's chakra system. Once this is achieved, the body will naturally heal.
Crystal healers believe that every living organism has its own vibrational energy system. This system is composed by the chakras, the electromagnetic energy around the body known as aura, its subtle bodies and meridians. Illnesses arise whenever there is an imbalance between these energies. Crystal healers use various kinds of crystal stones to tune the energy system and re-establish the balance between the body's innate energies. The crystals used in healing is selected based on the known vibrational energies that they produce, color, chemical composition, atomic structure and overall physical form, which all influences the energy within and surrounding the body. A trained practitioner is capable of moving, absorbing, focusing, directing and diffusing the imbalances of energy within the body by using the perfect structure of crystal for the body to emulate.
Crystal therapy works with an etheric web that lies outside the human's field of vision. When the physical body is surrounded with electromagnetic energies, placing crystal stones close to the body can create a field of electricity that can affect the body's energy centers or chakras. Chakras represent the body's seven main energy centers; the base chakra (root), navel chakra (sex), solar plexus chakra (stomach), heart chakra, throat chakra, third eye chakra (brow), and crown chakra. These seven energy points correspond to a particular ray of color; red, orange, green, blue, indigo or violet. Colors each have their own meaning. The crystals bearing the color that appeal to a particular chakra can be used in speeding up the healing of its associated areas and organs.
Crystal stones are known to bring color and light into the aura or energies surrounding the physical body. Via the chakra system, the energies of the stones penetrate through the subtle layers of the body's innate energies, a principle known as vibration and resonance. Since crystals form specific grid patterns and various forms of sacred geometry, they have the capacity to create pillars of light, which opens up the body's chakra system.
There are a variety of complementary stones used to facilitate crystal therapy. These stones are selected to use and focus their energies or reflect energies to promote physical, emotional and spiritual well-being. Of all the natural crystals being used for healing, quartz is considered the master gemstone. As the building block of virtually all minerals, it influences many of the important constituents of the body. Ruby is a popular red stone that is used to amplify positive energies, heightening the purity of the energy that the body possesses. Sapphire, the serene stone, comes in the shades of gray, black, yellow and green. This stone is used to lessen tension and prevent confusion and depression by removing the physical as well as spiritual impurities within the body. Amethyst is the violet colored quartz that aids transmission of neural signals and soothes nervous system functions.
Promoting healing through crystal stones is currently being used to prevent or remedy physical illnesses and symptoms. It is used to relieve both acute and chronic conditions, states of anxiety, facilitate pre-operative care and post-operative healing. It basically promotes recovery from existing illnesses or symptoms by activating and supporting the body's natural healing processes. With each mineral stone having special and specific influence, function and impact to the vibrational energies of the body, crystal therapy basically facilitates healing by refocusing the body's natural life energy. There is a kind of metaphysics about it. When wearing mineral makeup, you are applying minerals found healing stones onto your face.
back to the top of crystal therapy page
---
Have A Great Story About This Topic?
Do you have a great story about this? Share it!
What Other Visitors Have Said
Click below to see contributions from other visitors to this page...

re advertising Not rated yet
The purpose of my contacting you is to inquire as to placing an advertisement for Psychic Stars on your site. Before you say no, let me offer you this. …
Reflexologist Not rated yet
Hi There, I am Kimmie Rose. I have been ill for a very long time(diagnosed with MS in 1993) I could not walk for about 2 years. I went to Mexico for …
---

Don't just build a website, build a web business!
Beauty is just a click away! Visit me, your Independent Beauty Consultant.