Serpentine
Serpentine, also known as the Infinite Stone, was named because it resembles a snake's skin and was thought to protect against venomous creatures. It is a magnesium iron silicate hydroxide mineral that occurs in dense masses and fibrous form with a hardness of 2 to 4.5. It can vary from a pale yellow-green color to deep forest green and can have spots of magnetite. Serpentine is generally found in Great Britain, Italy, South Africa, Russia, Canada and the United States.
Many of the gothic and renaissance buildings in Italy are adorned with serpentine facades and marble. Some of the cathedrals, monuments and museums in earlier centuries of Italy were designed by artist greats like Michelangelo and Donatello, and were adorned in serpentine. In Ireland, the famous Connemara marble is mixed with Serpentine and found in large deposits throughout Europe.
Smooth/Tumbled Serpentine:

Belonging to All Chakras, this Earth element is said to have access to spiritual history of the Earth, connection with Nature, and kundalini awakening. Serpentine is an activator of the kundalini and brings about safe and balanced awakenings of these energies.
Serpentine is said to be a good stone to place on the places where blocked energies need cleared. Placing serpentine on chakra points can bring about helpful energies, and arouse inner guidance and intuition. Carrying, wearing or meditating with Serpentine can establish order by nature and bring peace and joy that reverberates to the rest of the world.
By awakening kundalini, a wide range of psychic and spiritual phenomena, of great intensity can be experienced. It is like a serpent rising up the spine that activates each chakra and emerges from the crown, which is why it is tied to the crown and all chakras.
Holding serpentine can take you into past lives, and helps confront anyone from your past, promotes forgiveness and clears emotional baggage. It is believed to bring you angelic guidance that allows you to integrate the past, present and future.
Serpentine comes in several sub categories, such as Red Serpentine that is most known for diabetes and helpful to Celts, The Infinite Stone is referring to Light Green Serpentine and Leopardskin Serpentine is most noted as the direct channel to spiritual guidance and multi-dimensional meditations.
Known to be beneficial for longevity, detoxification, parasite elimination, calcium and magnesium absorption, hypoglycemia and diabetes, Serpentine is also connected with pain relief such as PMS and dental or muscular aches.
Rough Serpentine Stone: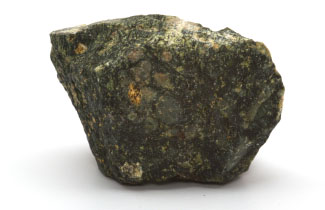 Serpentine belongs to the astrological sign of Gemini, it vibrates to number 8. The chakras associated with it are the Crown, which clears all. The planet of this stone is the Saturn. Said to be excellent for rituals and trance work, it aids meditation and helps you understand spiritual basis, corrects mental and emotional imbalance and focuses healing energy toward areas that need it. It belongs to a monoclinic crystal structure or system, although it can be orthorhombic or hexagonal, but doesn't form macroscopic crystals. Like DNA, Green Serpentine carries the matrix of evolution for the Earth and is one of the more common stones, but the energy is extraordinary.
back to the top of serpentine page
---
Have A Great Gem Healing Stone Story?
Do you have a great gem healing stone story? Especially about this one? Share it!
Other Gem Healing Stone Stories
Click below to see contributions from other visitors to this page...

ME AND MY MOTHER Not rated yet
I FEEL ALONE IN THIS WORLD.SOMETIMES MY HANDS STARTS VIBRATING AND A COOL AND SOUR SMELL STARTS FLOWING.
---

Don't just build a website, build a web business!
Beauty is just a click away! Visit me, your Independent Beauty Consultant.
---
---