Foundation Makeup
There are many different foundation makeups available nowadays. These include: 1. Stick foundation: cream foundation and concealer that provides easy coverage for normal to dry skin. 2. Liquid foundation: most common foundation that works well for everyone and you can find different formulations for oily, dry and normal skin. 3. Cream foundation: is just like stick foundation. 4. Powder foundation: mineral powder foundation is absolutely great for all skin types, not to mention all those good hidden vibrations to help you be your healthiest. 5. Spray on foundation: is in an aerosol can and I don't know much about it at this time. 6. Cream to powder: is a great foundation for oily skin and it gives great coverage. 7. Tinted moisturizer: gives sheer coverage, moisturizes and sunscreen protection.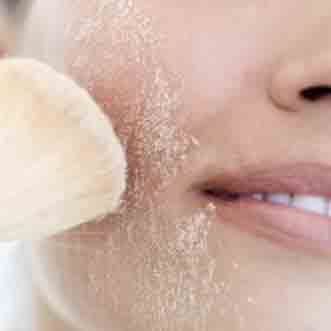 Selecting Foundation
If you don't buy a foundation makeup you can test first, then you must be willing to exchange it and exchange it and exchange it and exchange it again at the drugstore until you find a color that is an exact match to your face. Sometimes we are in between the available shades and need to do our own custom color mixing. When testing foundation, put a swipe on your face near the jawline and don't blend it in. Let it dry, because the color will darken. Look for a color that matches your skin exactly and 'disappears' into your skin. If your face and neck are two different colors, you may have to find a compromise. If you have any reddish areas on your face, make sure you match the color to your jawline. You want your foundation makeup to cover any redness, not match it. With your final selections, always check the color in daylight. When you decide you have found your match, always wear it over your whole face for at least a few hours to make sure the color and formula are right for you before you buy it or decide to keep it. Some foundations (especially oil based) can change color after being on your face for a while. Make sure you do this if you have oily skin. Sometimes, despite our best efforts, we can still end up with a product that turns out to be the wrong color or formula. These tips will help you learn to custom mix and adjust your own foundation makeup colors and formulas.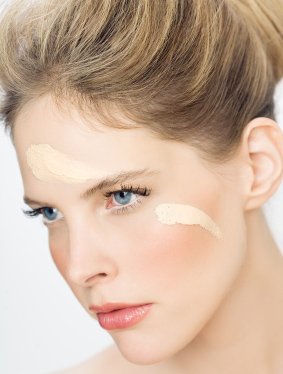 Technical tips for Adusting Foundation Colors and Formulas
Anytime you alter a foundation makeup, either mix it in small amounts in a separate container, or mix just enough in the palm of your hand for a single use. This keeps the make-up more sanitary (if you add water you could be introducing bacteria) and if you don't like how it came out or your skin tone or the weather changes, you haven't mixed the whole bottle. You can mix larger amounts if you are only combining foundations and not adding any oil or water to them. A container, jar or bottle with a tight lid you can re-seal works well. It is also helpful to pick something with a wide opening for easy mixing and cleaning.
Adjusting Foundation Color
You may find that you are always in-between shades and have to buy two foundation makeups and mix the colors together. This is great for when the seasons change. You can adjust the foundation to be lighter or darker to match my skin as it tans or fades. If your shade is too dark (or suddenly becomes too dark as your summer tan fades), but the next lightest color does not have the right "cast" to it (or you can't test it), just buy the lightest Ivory (try to avoid any with a pink or peach cast) or the next-to-lightest color and mix some of your foundation makeup with just a little bit of the light foundation at a time to get the right lightness. If you wish to keep the formula exactly the same, it is wise to mix within the same brand and formula.
You are not Limited to Mixing just Liquid Foundations
You can do this with stick or compact foundations as well. Use a toothpick, popsicle stick or cosmetic spatula to take a small piece of each and mix enough on your hand for a single use. It will take a little practice to learn the right proportions to use of each color, but you will get the hang of it and will be able to do it quickly soon. If you are having trouble getting a shade just right, remember that sheer liquid formulas are much more forgiving when it comes to color. The more coverage, the more perfect of a color match it must be. You can take a medium coverage makeup foundation and apply it with either a dry sponge for sheer coverage, or damp sponge for the sheerest coverage possible.
You can also Use Powder to Adjust Foundation Colors
If your foundation makeup is too light, you can add a little powdered bronzer, brown blush or brown eye shadow to darken it. Avoid using anything frosted. This can be a little tricky to get the color just right, so you will probably want to mix up a small batch in a separate bottle. You need to add very little powder. Of course, you can always just mix your foundation with a darker one. The powder method is just cheaper. You can also add baby powder to lighten a makeup foundation. But be forewarned that depending on how much you add, the baby powder may make the formula drier and thicken it a little. You can also use a different color powder over your foundation to correct the color. For a foundation that is too light, use a darker powder. You can add a little bit of bronzer, brown blush or brown eye shadow (matte) to some of your regular face powder. If your foundation is too dark, you can use a lighter powder or try just straight baby powder. For a foundation that is too pink, you can try a yellow-based powder over it and vice-versa.
To thicken your foundation, add loose powder. To thin your foundation, mix it in your palm with a few drops of water before applying. To get lighter coverage from your foundation, mix it with some moisturizer in your hand before applying. Your liquid foundation will also last longer if you apply it with fingers, rather than a sponge because a sponge will soak up some of it.
Information from the great makeup guru Robert Jones.
Back to the top of makeup foundation page
Back to mineral makeup application page
---
---

Don't just build a website, build a web business!
Beauty is just a click away! Visit me, your Independent Beauty Consultant.
Info links integration code: