The Healing Properties of Heliotrope (Bloodstone)
Heliotrope, commonly known as Bloodstone, is a form of Chalcedony have their own crystal meanings in healing. The minerals silica, aluminum (found in a minute quantity in mineral makeup's kaolin clay), iron, and magnesium makeup its trigonal chemical formula structure. These minerals are also minerals found in mineral makeup that we wear on our faces. As the birthstone for March, this Earth element is ruled or aligned by the planets Mars and Pluto, affecting the 1st, Root or Base Chakra, which connects with the 4th, or Heart Chakra energy. Bloodstone, (or Heliotrope), is typically found in dark green or greenish-blue stones, with small, red blood-like spots or steaks, which gives the stone its nickname. Heliotrope's healing properties include blood-cleansing, coincidentally.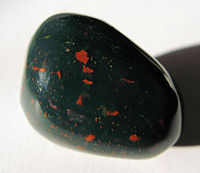 The name Heliotrope comes from the Greek culture, meaning "sun" (helio) and "direction", (trope). Frequently found in Central Asia, Urals, Australia, China and Brazil or Egypt and Calcutta India, Bloodstone may be called "eastern Jasper". In Christian culture, it earned its nickname in the Middle Ages, when the red spots or stripes of "blood" were believed to represent Christ's blood. Many early Christians believed the stone was created during the Crucifixion.
Chemically
Scientifically, it is dark green chalcedony, colored by red-iron oxide deposits and it may be found as bright green and red Jasper. These abnormalities and mottling characteristics are caused by cracks and fissures in rocks, where silica-rich waters can percolate through the chalcedony quartz.
Healing Properties
Healing properties of Heliotrope or Bloodstone include: • Abundance and good fortune • Alignment and smooth energy flow • Generosity and idealism • Purification and revitalization
Healing properties of Bloodstone are related to healing and revitalizing the system, making it a powerful healing stone. Intuition and creativity are heightened, but it is protective and grounding. While your mind is calmed and revitalized, you are able to enjoy enhanced decision-making skills and its protective nature gives courage, while protecting you from danger.
Because Bloodstone purifies and strengthens the blood, it is used for healing Leukemia, anemia, inflammation and infections. It is a potent detoxifier, making it helpful in cleansing the liver, intestines, kidneys, bladder and spleen. Since Heliotrope aids in circulation and blood flow, it stimulates the lymphatic and immune systems, while strengthening the heart.
Emotionally
Emotionally, it grounds heart energy and soothes irritability. Intuition is sharpened and dreams are enhanced or expanded on, since Bloodstone directs spiritual energies. Besides repelling undesirable influences and negative energies, aggressiveness is tamed and patience or selflessness is encouraged. Because of its protective healing properties, Bloodstone provides you with strategic withdrawal plans, should you become confronted by conflict or dangerous situations.
Magical
Since Bloodstone is believed to have many magical, healing properties, it is considered to be a protective amulet, although historically, it was also made into sculptures or carved figurines. Believed to have the healing energy of Yang, circulation is improved, while the stones are also believed to help stop bleeding.
Bloodstone is associated with the zodiac signs of Aries, Pisces, Scorpio and Libra and vibrates to the numbers 4 and 6. As one of the Root or Red Chakra stones, Bloodstone is used for grounding and survival- earning it the additional nicknames of "The Stone of Courage", "Warrior Stone" or "The Martyr's Gem". Healing properties may be transmitted through amulets, totems or talismans and they may be enhanced by placing the stone in water and putting that water in direct sunlight, to be taken as a tonic. It's truly a stone that's easy to use.
back to the top of heliotrope page
Have A Great Gem Healing Stone Story?
Do you have a great gem healing stone story? Especially about this one? Share it!

Don't just build a website, build a web business!
Beauty is just a click away! Visit me, your Independent Beauty Consultant.