Tiger Iron is Powerfully Complex
Tiger iron is metamorphic rock which owes its origin to the tectonic activity of the earth and is combination of quartz (silica) and iron. Silica and iron oxides are minerals found in mineral makeup. The structure of this stone is layered containing traces of jasper and hematite. As a result, this stone is a combination of grey, yellow and red bands with a triagonal crystal structure. This attractive color combination is the reason why this stone is so often used in ornaments and jewelry. Every color has its own meaning. The name tiger eye is derived from the combination of hematite and tiger eye which form an integral part of the stone.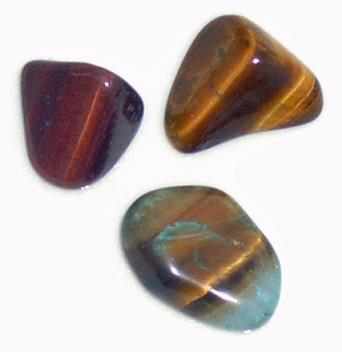 Since it has recently been discovered, nothing much is known about its healing effects in the ancient times. We do know something of its crystal meaning.
This stone is a combination of red jasper, hematite and tiger eye. Red Jasper is a stone full of life and stamina. It helps in catalyzing the healing process and helps in a smooth flow of energy. Tiger eye helps in facing the challenges of life and act according to the circumstances while remaining composed and centered. Hematite is a stone which balances the chakras and dispels all doubt and confusion. Since it's a blend of all these stones, it's obvious that tiger iron is truly a powerful stone which helps in healing all kinds of chronic illnesses. It also helps people to become more active and strong physically and mentally.
New Beginning
Tiger iron is a great stone to heal the past and make new beginnings. It is perfect for people who have been unable to let go or are scared of making any kinds of changes in their life. It helps in creating new impulses in our lives and catalyzing the change process which we cannot initiate due to inertia or any other reason.
There are always initial hiccups and teething problems in any new endeavors which sometimes tend to discourage the person. The presence of tiger iron helps in overcoming those obstacles and developing stamina to face all the challenges. It also helps in healing all kinds of mental and physical exhaustion which a person may face in the course of realizing his goals and dreams. It helps in strengthening the first, second and third chakras. It also harmonizes the functions of the pancreas, kidneys, intestines and lungs. It prevents people from falling into bad habits like smoking by enhancing their willpower and stamina.
Problem Solving
Most of the times, more complex the problem, the simpler and more obvious is the solution. Tiger Iron helps in realizing this simple truth instead of getting bogged down by the complexity of the problem. This in turn helps in making faster and more efficient decisions. Since this stone contains iron, it helps in the formation of red blood cells which enhances the flow of oxygen in the body and flooding the body with energy.
This stone helps in enhancing creativity which is why it is a great stone for actors, musicians and all people who are involved in performing arts. Tiger iron vibrates to number 7 and corresponds to the zodiac sign of Leo.
When wearing mineral makeup, you may even be wearing elements of tiger iron minerals and their crystal properties, on your face. Think of it in a metaphysical sense.
back to the top of tiger iron page
---

Don't just build a website, build a web business!
Beauty is just a click away! Visit me, your Independent Beauty Consultant.