The Success Stone Citrine
Citrine is a name derived from the French word "citron" which means "lemon". It is actually a gemstone that is given the name because of its lemon-yellow color. It is commonly mistaken to topaz quarts, a mineral that shares the same color. However, this lemon colored healing stone has its unique composition and characteristics. As a gemstone, it is not without charms that keeps its wearer cheerful. During the ancient times, this semi-precious mineral was carried by travelers and nomads because it is believed to carry a protection against snake venom, evil and impure thoughts. It is even nicknamed as the "success stone" since it is known to attract abundance, prosperity and success. On the spiritual side, the mineral was also found to stimulate the solar plexas and the third eye chakras which promotes stamina and activates intuition. In this light, it helps remedy problems such as insomnia and nightmares. On its physical benefits, it is believed to improve blood circulation, digestion, allergies as well as life-threatening diseases.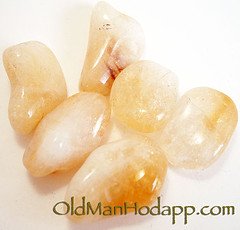 Citrine Mineral Composition

This healing stone is classified under the quartz group which is classified as oxides. It is a silicone dioxide mineral that has a hardness rating of 7 in Moh's Scale of Hardness. Its crystal stem is typically trigonal and its yellow color is accounted its iron origin. Although the mineral citrine is known for its pale yellow color, it actually varies in shade, depending from where the mineral was sourced. It comes in shades that range from very pale yellow, deep amber to nearly orange. This stone in brownish tinges is rather rare.
Uncut Citrine (picture from wiki media):
Astral Attributes
Aside from being a thing of beauty, man has long worn this mineral stone  because of its ability to attract positive energy. Ancient records claimed that the mineral was used by shamans because it is believed to open the inner doors that promote clarity of thought, enhanced creativity and magnified power of will and manifestation. As one of the premier stones of the second chakra, it is capable of awakening the powers of creative imagination of even the most unconscious person. In both its heated and natural form, it opens up the portals that call upon the second, third and sixth chakras. As a result, it activates, harmonizes these main energy centers, which are responsible in producing and processing creative imagination.
Into the realm of the third chakra, this mineral stone stimulates high frequencies of energies of the emotional, spiritual and the physical planes. It targets the improvements on the powerful points of one's energy systems and manifestations of creation or work. In the manifestation of these properties, it helps one perceive and heal power abuse and powerlessness. In this light, it helps resolve energy blocks, purify etheric blueprints, and removes other blockages in the manifestations of its physical, emotional and spiritual manifestations.
It makes an excellent charm stone for it works synergistically with many other healing stones. It can be combined with other minerals of complementing astral attributes. For those who feel the need for added energy, combining it with heliodor, golden labradorite and imperial topaz is advised. For improved visionary function, phenacite, azeztullite and natrolite are citrine's ideal allies. To put emphasis in the creative function, pairing it with zincite, orange calcite or carnelian will be of great assistance. Here is more for a brief overview on how to apply crystals.
Cut and polished Citrine (picture from wiki media):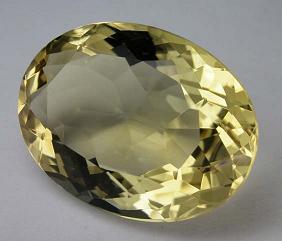 Healing Properties
The mineral stone citrine is useful in balancing the yin yang energy and in aligning the chakras within the ethereal plane. While it has the ability to disperse and transmute negative energies and work out problems at physical and subtle levels, it therefore promotes healthy clearing or cleansing on the part of its wearer. Their role in the healing and metaphysical work is one that cannot be disposed.
In addition to the astral or ethereal manifestation of the positive nature of the mineral chakra, it helps purify the body from its will center. On the spiritual side, it promotes the purification of the channel that brings divine energy in a number of constructive forms such as intention and action. On the emotional side, it helps overcome difficulty by maintaining effort through adversity. It also helps relieve its wearer in overcoming his feelings of being undeserving of abundance. Lastly, on the physical manifestation of the positive aspects of this stone, it is directly involved in promoting stamina and energy. Hence, it helps improve the functions of the endocrine system and promote proper metabolism.
Modern Applications
Nowadays, taking advantage of the benefits of healing stone citrine is not only limited to wearing it on jewelries and charms. It is now one of the most gentle and safe ingredients of the mineral makeup. From eye pencils, lip gloss, eye shadows, shimmer and powders, this microcrystalline variety of crystal Quartz can now be worn in more helpful forms such as the mineral makeup. In delivering its goodness to the many products that helps promote beauty and well-being, it managed to infuse beauty in its ever increasing health and cosmic advantages and benefits.

Don't just build a website, build a web business!
Beauty is just a click away! Visit me, your Independent Beauty Consultant.