Jasper: The Supreme Nurturer
Through out history, the stone Jasper has been famous as the "Supreme Nurturer". This stone has been used and revered by people world over. Most people believe that this supreme nurturer has magical and healing powers which heal the soul and body. Historical records suggest that this stone has been a symbol of helping fellow beings and wholeness. The natives of America believed that Jasper could protect them in astral travel and also could open the gateways of the spiritual realms.
The stone Jasper is generally made of silica and is found naturally as red, brown or orange colored stones. All colors have their own meanings. Their are different types of jasper stones such as ocean jasper or red jasper. Technically it is chalcedony or SiO2 quartz, and the healing stone heliotrope (bloodstone) is known as Eastern Jasper.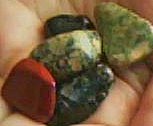 The Meta physicists believe that Jasper can align the Chakras. This stone helps in restoring the emotional balance of the person. Generally connected with Leos and Virgos, it's also considered the birthstone for October born babies.
The shamans believed that this supreme nurturer has great healing properties. It was used for curing stomach related and gynaecological troubles in women. Many people believed that Jasper could heal snake bites and even guard against evil spirits. This healing stone can draw energy from the universe and conducts this positive energy to the wearer. Thus the person who wears it is enthusiastic and has a zest for living.
This silica stone is also a protective stone which guards the wearer from all sorts of psychic attacks in the physical and the astral plain. This semi-precious gemstone is known to help people to become mentally strong. It helps them to realize that they are here to serve humanity and not just fulfill their own interests. It helps people who fight for justice and for the downtrodden. Many people use this stone in fighting drug abuse and addiction.
Jasper is one of the most healing stones of nature which heals the body, heart and soul. It imbibes courage and soaks up all the negative energy around the wearer. It is also essential in balancing the yin and yang energies and also enhances the environment by fighting physical, mental and psychic pollution.
If you are a dreamer who does not know how to transform his dreams into reality, then Jasper can show you the way. This healing stone imparts consistency, determination and insight to the wearer which helps in accomplishing projects.
On the physical plain this semi-precious stone is known to aid in healing ailments of the digestive, circulatory and sexual organs. Since it does not over stimulate the body, it is also a good gem elixir. Insomniacs benefit from it since it helps in a sound sleep and also get sweet dreams. It's particularly helpful for people who have recently recovered from illness and increases their appetite and imbibes an enthusiasm for life in them. It helps in combating depression and aids in the formation of great relationships.
These days Jasper is used by busy professionals to help them progress in their career. It helps professionals in increasing their stamina and enhances their existing capabilities.
Jasper is a stone which has found a place in every century and every person's heart. It enhances positivity and protects you from everything bad and negative. It's no wonder why people love Jasper so much!
Raw Red Jasper (picture from Istock):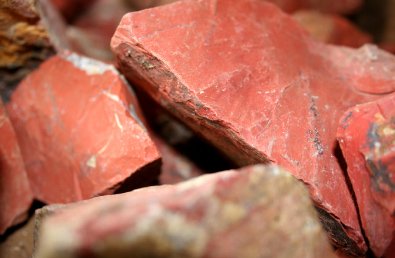 .
back to the top of jasper page
---
Have A Great Story About This Topic?
Do you have a great story about this? Share it!
---

Don't just build a website, build a web business!
Beauty is just a click away! Visit me, your Independent Beauty Consultant.