Emerald Has Healing Meanings
The deep green tone of emerald is a distinct embodiment of spiritual inspiration, and infinite patience. With its deep green color symbolizes its great integrity as a life-affirming stone. As a stone of life, it celebrates love in promoting domestic bliss and loyalty. In other human relations, it brings out unity and unconditional love through genuine partnerships and friendships. It is a symbol of life in full balance. It holds various chakra properties that calm the chaos through our internal and external physical beings, safeguarding love, healing, compassion and abundance.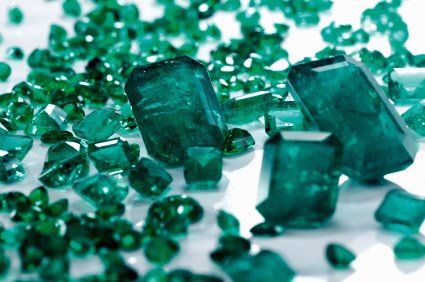 History
Emerald is a name derived from the Greek word smaragdos, which means 'green stone'. It was discovered as early as 1300 B.C. It falls under the variety of beryllium aluminum silicate mineral; its pigment is actually resulted from a combination of chrome and vanadium. Aluminum is found in mineral makeup's kaolin clay and silica is a mineral element found in mineral makeup. It is formed out of a hexagonal (trigonal) crystal system, a prismatic crystal structure that is vertically striated and terminated through small pyramid-like faces. Hexagonal and trigonal crystal systems have their own healing rock lifestyles. While it is originally known for its deep green color, emerald stones also come in tones of red or 'red emerald', which is actually an emerald stone resulting from red beryl. While deep green emerald is known for to symbolize prosperity and blissful love, a change in its natural color is believed to symbolize a turn to unfaithfulness in relations. Hence, this stone instills sensitivity within the self and within others.
Prosperity Symbol
A symbol of prosperity, emerald promotes awareness and balance by eliciting conscious recognition in the need to extend help in accessing and maintaining the laws of order within the universe. It helps eliminate the elements that impede progress to maintain an environment conducive to entering a healing meditative state. Its green color is also symbolic of the cool brilliance that deliberately reflects when light strikes upon it, which is seen as a symbol of enlightenment through chaos and storms in the personal and external self.
Green History
Green is a color that stands for life. For that reason, green emerald was viewed by ancient Romans as a symbol of fertility. Various Christian legends even speak of emerald as the stone of resurrection as it lures the sick to healing, it assuages fear with a state of peace, and it improves memory and bestows the gift of prophecy of joy and peace in this world. Overall, it brings about a state that is inscribed with the recipe for transformation and enlightenment.
To promote enlightenment, the stone ensures physical, emotional and mental balance. It eliminates negativity by reflecting the good benefits of positive actions and by focusing on the intentions these actions have to raise consciousness, sharpen psychic abilities and open a sense of clairvoyance. It stimulates the gathering of wisdom by maintaining a sense of balance between the mental planes, to which it is gathered to protect.
Dis–Ease Recovery
In promoting and using greater mental capacities, it hastens recovery from illnesses, which impede the balance between the internal and external self. Its healing properties extend to aiding recovery from infections and problems on the lings, heart, spine, muscles and eyes, which holds the core of mental awareness. It is even used as an antidote to poisons, worn around the neck to relieve symptoms of epilepsy. It prevents flu-like relapses by continuing detoxification toward overall body harmony. Its green rays which strikes against the light assists in improving malignant conditions.
"Hidden" Properties
Beyond physical illnesses, emerald extends its power to help people overcome psychological struggles. As a stone of regeneration and recovery, it wards off negative emotions to enhance one's ability to appreciate and enjoy life. It imparts mental clarity by ways of inspiring deep realizations of discernment and truth, which deepen one's ability to know while broadening his vision of life. It connects mortal affections or relations to the concept of Divine Love, preventing one from being misled by worldly acts and influences. It keeps you centered on your heart's wisdom of goodness. In many ways, it helps relieve heartbreak in making one realize the importance of giving love to oneself as well as to others.
Spiritually Speaking …
The spiritual capacities of emerald allow it to activate and stimulate the heart of chakra, the one that is helpful in quieting emotions and responsible in bringing harmony to certain areas of life. It facilitates intensity and focus to one's actions in eliminating the negativity from one spirit and bringing forth self awareness, which is centered on the practicality and appreciation of one's lifework. In providing light and guidance to one's spiritual path, the aspirations symbolic of a green emerald most purely represent the energy patterns that promote compassion and unconditional love for other people.
When wearing mineral makeup, you may even be wearing emerald minerals and its properties, on your face.
Other healing crystal meanings.
back to the top of emerald page

Don't just build a website, build a web business!
Beauty is just a click away! Visit me, your Independent Beauty Consultant.