Micronized Mineral Makeup
Micronized mineral makeup has been making rave reviews lately. With its ever-increasing demand, seems like its significant skincare benefits have gone beyond the word of mouth. Micronized makeups have become somewhat fashionable, thanks to its divine effect on the skin. Not only does it make you look good, it also protects the skin against damaging elements. With that, a lot of makeup brands have features micronized mineral for their new and improved makeup line.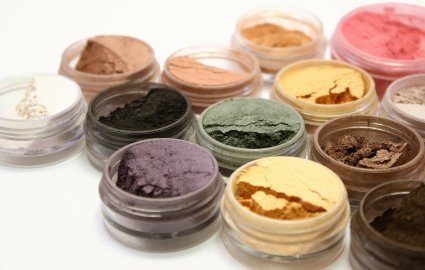 As the name implies, micronized mineral is basically crushed mineral. The size of the particles of a makeup has everything to do with its ability to bind on the skin. It determines how it looks when applied and how easy it is to apply against the surface of the skin. With large makeup particles, each particle rests on the skin's surface causing the makeup to cake and look messy. Micronized mineral uses ingredients that are crushed into much finer particles, allowing the ingredients to effectively fuse together and adhere to the skin when applied. This makes micronized ingredient particles able to create a smear and crease-free look that makes the skin look naturally radiant. Many of these minerals are found in healing stones. Healing stones have a power of their own found in their crystal meanings.
The size of the particle of a makeup ingredient is determined by a range of micrometer measurements. Surely, you have heard of nano-sized mineral particles. The thing about nano scale mineral ingredients is that they quickly disperse. Whenever you use nano makeups, you increase your chance of trapping some mineral makeup ingredients into your lungs and eyes and some of it can even penetrate into the skin and into the bloodstream, which is never a good idea. That is why micronized particles are better than nano sized mineral makeups. They are made in just about the size that does not have the biological mobility of a nano-sized particle, but still deliver its naturally divine and glowing effect on the skin.
Mineral makeups are favored for their smooth effect and pleasant feeling. It reflects a number of desirable results that conventional makeup types cannot deliver. One quality that mineral makeups eliminate is the greasy look. Instead, it creates a smooth, evenly light dispersing and non-greasy surface on the skin. Mineral makeup application is easy. Now, with micronized mineral ingredients, these great effects went beyond expectations. It established easier application and smoother effect in using a lot less makeup. With its well-blended materials, it simply achieved perfection among mineral makeup formulations. Hence, you can only imagine how much more improvements can micronized mineral ingredients bring to other cosmetic and skin care products.
Unlike other forms of makeup, micronized mineral makeup allows your skin to breathe. In allowing you to achieve magnificent results with minimal application of makeup, it allows you to cover up your skin's imperfections without clogging its pores. It basically creates a thin layer of makeup that seamlessly conceals your fine lines and uneven skin coloring and creates a built-in sunscreen effect. Hence, it protects the skin from getting further damaged by the sun's rays, like aging.
Just like other forms and formulations of makeup, micronized mineral makeup has become an everyday makeup. It is available in varieties and colors that match virtually all skin tones. Check the free samples for your individual skin tone and eye color. With all the significant cosmetic and protective skin benefits that it delivers, it has presented a safer, more practical and more effective alternative to chemically formed makeup.
back to the top of micronized mineral makeup page
back to the benefits of mineral makeup page
---
Have A Great Story About This Topic?
Do you have a great story about this? Share it!
---
---

Don't just build a website, build a web business!
Beauty is just a click away! Visit me, your Independent Beauty Consultant.