Mineral Bronzers
These days a lot of women are opting for mineral make up. Mineral bronzers are nothing but pressed powder which can be used to give your skin a golden, sun kissed appearance without the harmful affects of the ultraviolet rays of the sun. Summers are often reserved for beaches and sun bathing by most people. However, you don't really want to go out looking pale and white. Hence mineral bronzers can help you to achieve that look without you needing to roast in the summer sun. Mineral bronzers are great for many other purposes as well. They can be used to conceal all the wrinkles and discolorations while enhancing your best features.
Ingredients
The main ingredients in the bronzers are generally vitamin A, vitamin E and vitamin C along with botanical and natural minerals which help in protecting your skin against free radicals. Mineral ingredients can include: magnesium silicate hydroxide , Polymethyl Methacrylate , Zea Mays (Corn) Starch , Octyldodecyl Lactate , Zinc Stearate , Silica , Nylon-12 , Dimethicone , Isononyl Isononanoate, Octyldodecyl Stearoyl Stearate, Methylparaben , Imidazolidinyl Urea, Ethylhexyl Palmitate, Luffa Cylindrica Seed Oil, Octyldodecanol, BHT , Iron Oxides.
Varieties of Bronzers
There are many different varieties of bronzers like bronzers for tanning, fair skin and dark skin. For different pressed mineral bronzer colors to match your skin tone, visit the bronzer page. Bronzers add a sun kissed look to the lighter skin tones and make the darker tones appear warm. How does one choose the right shade of the bronzer? Choosing an extremely dark shade will make your face look dirty and give you a harsher and an ugly look. The general rule of the thumb is that if you are need the tanned look or a summery look then you need to have a bronzer which is about two shades darker than your skin. If you are in a cold place then you need a bronzer which is about one shade darker than your skin. A mineral bronzer can also add a shimmer or a glow to your face. Choosing the right mineral bronzer is easy. All you need to do is to ask for a sample below, and try the bronzer on your chin. Most people make the mistake of trying out the bronzer on the back of their hand. The skin tones of hand and face do not really match. Hence, before you buy any shade of mineral bronzer, try it on your chin and see how it looks.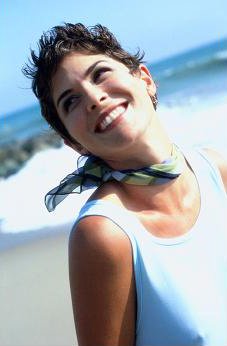 Bronzer Application
The main thing that you need for the application of the mineral bronzer is a soft bristled large powder brush. This will aid in spreading the bronzer evenly to achieve a natural look. You'll want to apply bronzer where the sun naturally hits your face such as on the forehead, cheeks, nose and shoulders. A good idea is to apply the bronzer in the natural light so that you know what you are doing. Generally people tend to over apply the bronzer in the artificial light. Prior to the bronzer application, you need to apply a very thin layer of foundation. Don't over do it, just apply enough to even out the skin texture. A thin layer of powder needs to be applied with a large powder brush to even out the face. Once that's done, apply a small amount of bronzer on the forehead, cheek bones, and jaw line and fore head and on the tip of your nose and sides. A thin layer of bronzer needs to applied on the neck to give that even look. Avoid the under eye area since that may give you an overdone look. You can even apply the bronzer to your shoulders and legs to give that sun kissed look. You can also go in for a slight shimmer containing mineral bronzers since they will give you that golden glow!
Use as Eye and/or Cheek Color Too
The pressed mineral bronzing powder found on the mineral bronzing free samples page can also be used as eye colors. It can be used to create a one-color or two-color eye look.
One-Color Eye Color Application Tips:1) Apply the lightest shade all over the lid, from lash line to brow bone. 2) Or, swirl both shades together in one pan and apply all over lid, from lash line to brow bone.
Two-Color Eye Color Application tips:1) Best for deep set eye, but works for all shapes. 2) Apply the lightest shade on the brow bone and lid. 3) Apply and blend the darker shade along the top of the lash line and into the outside half to three-fourths of the crease.
The weightless texture, silky feel that applies smoothly, easlity and evenly is a delight to find that healthy sun-kissed look.
back to the top of mineral bronzers page
back to mineral makeup application page
---
Have A Great Mineral Makeup Application Tip?
Do you have a great story about this? Share it!
---

Don't just build a website, build a web business!
Beauty is just a click away! Visit me, your Independent Beauty Consultant.