Turquoise Healing Stones
In the chemical parlance, turquoise is a triclinic hydrous copper aluminum phosphate. (Aluminum can also be found in minute quantities in kaolin clay of mineral makeup). In the natural world, this stone is formed sediment, which is deposited as fillings and coatings in the clefts due to the reactions of aluminum phosphate, deposits in the rocks with copper containing solutions. Many rocks have their own crystal meanings. It can also be found as veins, stalactites, masses, and sometimes even as prismatic crystals that have some bright colors. The color of this stone varies from green to turquoise. Colors have their own meanings.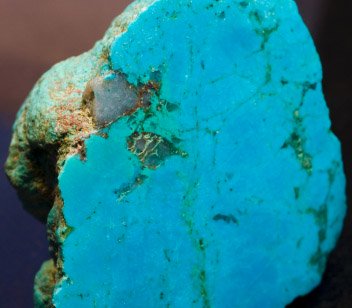 A Protector from Magic
The name Turquoise has been derived from "Turkey" which is where this stone was first discovered by the Europeans. Looking back at the history of various cultures, it is quite clear that this stone was used to protect people from all kinds of black magic and spells. In the ancient times, it was a popular amulet that enhanced the health and the strength of the wearer. Moreover, it could also forewarn people of any kind of problems or dangers. The Native Americans also revered this stone. Amongst its varied uses, it was more used to initiate rain and cause "cloud bursting" or causing rain. Traditionally, gifting a turquoise was a harbinger of good luck and peace.
This stone is thought to be a blend of the Earth and the Sky as it blends the blue of the Sky with that of the Earth. This stone helps in enhancing the spiritual and mental clarity along with balancing the female and male energies in a person. It also aids in increasing the psychic powers or even helps natural psychics to enhance their powers.
Romance is in the Air
Turquoise can be a great stone for lovers as it helps in catalyzing the stirrings of romance. It helps people to become spontaneous in expressing their feelings for each other. Feelings like kindness, trust, understanding, and wisdom are increased many folds by the presence of this stone. It also helps the owner to recognize beauty.
A Master Healer
People who have been plagued with negativity all through their lives should benefit from turquoise, as it is one of the most anti-negativity stones around. It is known as a master healer and emits an energy that helps in purifying and completely getting rid of all kinds of negativity. It is a great choice for spiritual attunement and cleansing the mental and physical body.
Besides healing, this stone can also be used to align the chakras and strengthen them. It helps in enhancing your energy levels to a higher plane of consciousness. It is a great stone for meditation as it can help you to remain grounded and remain in touch with the conscious mind even during trances. In other words, this stone can protect you while you meditate or even travel between the spiritual worlds.
Spiritual and Physical
On a spiritual level, Turquoise helps us to realize that we alone create our destinies. On an emotional front, it aids in controlling unreasonable mood fluctuations besides getting rid of a self-pitying attitude. Personal Responsibility is greatly enhanced. Mentally, this stone is great for developing a good foresight and intuition besides providing a sense of peace and calm. Turquoise is also a great stone to heal problems like viral infections, stomach problem, gout, rheumatism, and acidity. It aids in enhancing the brain and heals cramps and pains.
Turquoise corresponds to the throat and third eye chakra and it vibrates to number one. It's well suited for zodiac signs like Pisces, Sagittarius, and Scorpio. The corresponding planets for this stone are Pisces, Sagittarius, and Scorpio. Think of it as mineral makeup in a metaphysical sense.
back to the top of turquoise page
---
Have A Great Gem Healing Stone Story?
Do you have a great gem healing stone story? Especially about this one? Share it!
---
---

Don't just build a website, build a web business!
Beauty is just a click away! Visit me, your Independent Beauty Consultant.