Tourmaline Ingredient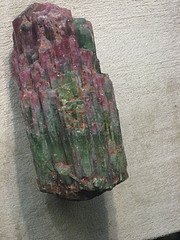 Complex aluminum borosilicate (silica and aluminum - a tiny component of kaolin clay- are both minerals found in mineral makeup) forms vertical needle-like trigonal crystal patterns along the parallel main axis describes the physical composition of tourmaline. This attribute made it acquire a wide variation of colors, which include red, pink, yellow, brown, black as well as shades of green, blue lilac and violet. Every color has its own meaning. The watermelon tourmaline, a crystal with a pink center surrounded by an outer layer of green shade, is one of the most popular tourmaline gems. There are many crystals with their own meanings .
A Little History
The name tourmaline was coined from the Singhalese term 'turamali', which means 'capable of generating electricity under pressure'. It was noted for its strong affinity with devic energies, manifested by its ability to drive away pests from crops, encouraging growth and health. Other cultures have used tourmaline to guide them toward the direction that would bring 'good'. As it was recognized as a teller stone, it was also used to gain insights during times of struggles, telling 'who' or what have caused such troubles. Shamans from Africa, Native America and other aboriginal tribes discovered the stone's healing and protective properties and in awakening people from 'dreams of illusion' to establish balance to one's universal spirit. These traditional practices using tourmaline lead to the discovery of more of its metaphysical use.
Vibrational Energies
Tourmaline has the capacity to ground spiritual energies; balancing chakras and auric bodies to form a protective shield. It is used as a powerful mental healer as in balancing the energies that run through the left and right sides of the brain and helps transmute negative thoughts into positive ones. It arranges chakras to form a biomagnetic sheath alignment, which is helpful in treating paranoia, dyslexia and other mental disorders as well as correcting illnesses that affect hand-to-eye coordination and assimilation of information.
In transforming, cleansing and purifying dense energies into their lighter vibrational form, it effectively balances all the chakras. During rituals, this attribute enables the stone to form a protective shield and maintain or stimulate each of the energy centers of the body. For instance, red, yellow and brown tourmalines can improve sexuality and emotional dysfunction, which causes loss of libido. The mineral stone can also help release tension in aiding spinal adjustments to establish well balanced male-female energy within the body.
Today, natural tourmaline wands are used as an important healing tool in clearing out negative aura, removing blockages and dispersing negative energies to point solutions to specific problems. As it is capable of connecting and balancing all chakras, it has a strong influence over the devic energies that promotes growth, health and protection against pests such as in plants. In facilitating balance that is inherent among ethereal bodies, it promotes positive energy patterns and positive affirmations, which replaces fear with self confidence. Hence, tourmaline enhances the flow of positive and healing energies within the body, promoting physical, mental and spiritual well-being. Just imagine if the silica mineral found in mineral makeup came from tourmaline – you may just happen to be wearing some of its energies on your face!
back to the top of tourmaline page

Don't just build a website, build a web business!
Beauty is just a click away! Visit me, your Independent Beauty Consultant.