Rosacea
Rosacea can be an embarrassing redness of the face that looks like a patchy blushing rash, in some cases. For those with Rosacea, there are several things believed to trigger outbreaks, such as hot showers, sun exposure, spicy foods and anything that makes the blood flow faster. The redness is caused by an excess of blood flow to the surface blood vessels, and they can eventually erupt to the surface of the skin appearing as a rash.
The problem can become worse when applying foundations to already sensitive and irritated skin. Many of the foundations on the market have any number of chemicals in them, and now there are more additives to increase the shelf life. It has been found that natural mineral makeup may be the best remedy, when it comes to covering the effects of Rosacea, and keeping it from getting worse.
In the Victorian and Edwardian eras, sulfur was used as a natural treatment. Now there are mineral based foundations that utilize natural minerals such as zinc oxide, titanium dioxide, talc and kaolin clay that are known as natural wound and skin healing minerals, and minerals that are believed to have good vibrational energy for skin health in chakra therapies.
Woman with mild rosacea: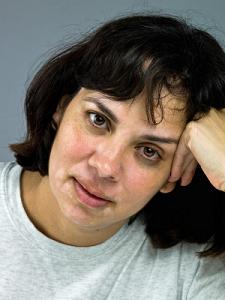 Antioxidants and Natural Ingredients
Vitamin E and Vitamin A are known anti oxidants for skin health and are frequently recommended for those with Rosacea. In addition, sunscreen needs to be used in sun exposure due to the overly sensitive nature of the skin condition, and mineral makeups are a natural sunscreen and are actually good for healing irritations and inflammations.
Mineral powder makeup is made from finely milled minerals that offer very sheer coverage, allowing the skin to breathe. Because Rosacea acne can be a common side effect of trying to cover up the redness, this is an important factor, besides the fact that mineral makeups are natural ingredients, versus artificial foundations that contain fragrances and dyes that can irritate the skin.
Another factor in preventing the Rosacea acne is that mineral makeup does not contain bacteria that can feed the acne or cause the makeup to spoil. The absorbent qualities of mineral makeup foundations make it a good choice for people with oily skin, as well.
Special mineral makeup application methods and colors for those with Rosacea, involve dusting instead of buffing, using a flocked sponge if a brush irritates your skin and selecting mineral makeup foundations that include a yellow base, known as a concealer or neutralizer to cover red color. Another good color is a green base color in foundations, even when they look ivory, beige or bronze, they still come in an off tint of olive green.
Mineral Makeup Application for Rosacea
In mineral makeup applications to camouflage rosacea, first lightly dust with a flocked sponge versus a brush, to apply a base coat that has a yellowish tinge as concealer to the worst areas, then layer with the foundation in an ivory, beige or bronze, and finish with a silky talc facial veil for a smooth finished appearance.
Many Rosacea sufferers report that mineral makeups actually cure the Rosacea, which is probably true since zinc oxide and titanium oxide are natural anti-irritants. Rosacea sufferers should avoid any mineral makeups that contain bismuth as some may have experience itchiness, although some sufferers are able to use it and love the golden look of it.
It is important that you wash your face lightly, apply makeup lightly, even if it is mineral makeup, to prevent from aggravating Rosacea. Of course, the other thing you will find is that you do not need to apply mineral makeup heavily to achieve coverage, even with serious Rosacea, although it is advised that you apply very sparingly in serious cases, or wait until some clearing takes place to start experimenting with foundations.
Beneficial Foundation Ingredients
When it comes to foundations, whether mineral based, water based or oil based, the amount of coverage depends on the amounts of titanium dioxide, talc, zinc oxide, chalk or kaolin that they contain, and titanium dioxide acts as a natural sunscreen. Because the mineral based makeups are nothing but minerals, they are not watered down, or have any additives that would irritate the skin, and you can use less since they are not diluted, but in the purest and most natural form.
When it comes to treating and covering Rosacea, mineral makeup has been found to be one of the best products for healing and sunscreen protection.
back to the top of rosacea page
back to mineral makeup application page
---
Have A Great Mineral Makeup Application Tip?
Do you have a great story about this? Share it!
Read other great mineral makeup tips:
Cream Tips on Dealing with Rosacea Not rated yet
Thank you Sales Director, Deb Miller?.. She got this valuable information from Dr. Gerding, Plastic Surgeon and Burn Specialist at the Cleveland Clinic. …
---

Don't just build a website, build a web business!
Beauty is just a click away! Visit me, your Independent Beauty Consultant.
---
---