Ruby Has It All
Courage, passion, adventure and protection; Ruby is a mineral stone that carries strong and distinct characteristics. Its fiery red color was once mistaken as spinels and garnets. As it acquires a variety of corundrum, this aluminum oxide mineral stone form from a hexagonal trigonal crystal. Aluminum is found in kaolin clay – a mineral ingredient in mineral makeup. In its prismatic, tabular, bipyramidal and rhombohedral crystal structure, it occurs in granular and massive habits. The titanium oxide (another important mineral found in mineral makeup) in rubies cause light diffusion, which makes luminous cabochon-cut stones. It usually appears as a six-pointed star of crimson red and orange-red stone, which is attributed to its chromium origins.
The Courage in Ruby
The deep red tone of ruby makes it a strong statement of courage. Every color has its own special meaning. However, its crystal properties speak of powerful capacities to assuage doubt and relieve anxieties. It allows one to be comfortable with the unknown; its magnetism for novelty and synchronicity allows one to handle situations where fear will be faced and met head-on. Its courage and passion for life delivers energies that teaches one to face and enjoy life's thrills and confront conflicts in any form. With ruby, courage is achieved with the absence of fear. It inspires one to keep going.
Protective History
The protective side of ruby encourages one to stand up to all forms of threats. Whether it is friends, children, animals or nature as a whole, it strengthens the help to bring about one's courage to speak of truth and power without feeling vulnerable. It basically creates personalities that people would idolize and look up to. In emanating capacities to bring powerful life forces to increase one's vitality and spiritual being, ancient legends have referred ruby as an amulet of invulnerability. Asian conquerors such as Kublai Khan was said to offer an entire city in exchange for a huge ruby. European lore, during the Middle Ages, have accounted ruby to have the ability to convey good health, resolve disagreements and remove negative thoughts.
Ruby on white marble found in Washington Museum (picture from flickr):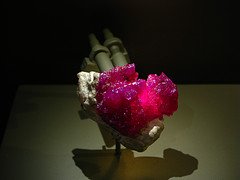 Healing
Ruby crystals have superior capacities that helps link into the spiritual realms. Based on ancient writings, ruby was claimed to cover the esoteric principles of various religious movements. With structure and attributes that occult knowledge and information on intuitive, psychic and astral abilities, ruby crystals were even claimed as created by the gods. Indians believe that ruby originated from the spears of Lord Krishna, which was used to vanish the Lord of destruction from the earth. Today, the crystal is used for its intense healing and purification ethers.
Energy
Ruby is also known as the stone of energy as it exhibits the capacity to gather and amplify energies that promote mental concentration. It promotes clarity in the mind son one can resolve controversies and disputes and encourage gentleness and discourage violence. It protects against all levels of psychic attack, to limit anguish, distress and suffering. The stone promotes security to one's physical, mental and emotional bodies. While it enhances passion and fortitude for mental and spiritual capacities in wholeheartedly supporting one's pursuits in life, the stone speaks of pleasures in enjoying a better sense of well-being. It develops an attitude that helps the body regulate metabolism to develop a loving attitude on the nature of one's physiology. In sense, it hastens normal body system functions to maintain optimum nourishment and state of physical health.
Mind/Body Connection
Aside from the pleasures and beauty of life, ruby also assists in healing by reinforcing the connection between the mind and the body. For instance, among sexual abuse victims, it encourages everyone to love oneself by taking care of their bodies as it is a vehicle for spiritual and full recovery. In coping with addiction or self-abuse, the ruby crystal assists in purifying the disoriented and trapped energy inside your being to achieve atrophy. In resolving the opposites, the positive and negative side of life, it refines a love-based force that acts in aligning the body towards a full spectrum, where optimum state of health and being will be enjoyed. Ruby basically removes and eliminates all elements that may impede one's progress towards his spiritual path. It arrests the leakages of energy from the chakras to transmute negative energies into positive energies, which results to a state of 'golden realm of reasoning'. It assists one's selection of attainment in life, it refines one's values so higher levels spiritual wisdom, health, wealth and knowledge will be at hand. It replenishes one's energy stores to go extra mile in exploring one's potentials and other possibilities in life under the watch of one's spiritual guides.
When wearing mineral makeup, you may be wearing ruby minerals and their properties, on your face. Many other healing stone meanings can be found here.
---
Have A Great Gem Healing Stone Story?
Do you have a great gem healing stone story? Especially about this one? Share it!
---

Don't just build a website, build a web business!
Beauty is just a click away! Visit me, your Independent Beauty Consultant.
---
---