Rhodonite Healing Stone
Rhodonite is a rose colored mineral chain silicate (silica is a mineral found in mineral makeup) that acquires a triclinic crystal system of formation. Primarily formed from manganese ore deposits, this mineral is known for its beautiful color, making it a prime commodity in stonemasonry and architectural constructions. The beauty and practicality of this mineral stone also expands its range of use with its healing properties. Beyond the beauty of this monolithic block is a wealth of potent essences that are helpful in promoting healthy and harmonious living.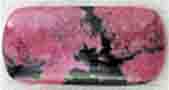 Background
The name rhodonite actually originated from the Greek word 'rhodon', which means rose. For a mineral stone that bears such an unusual tone of color of earth, it is surprising to know that there are very limited accounts to its traditions and healing effects. With the advent of the discovery of the healing wonders of the earth and minerals, the health-giving qualities of this mineral stone were eventually revealed.
The 'rose' colored mineral rhodonite emerged as the best wound healing stone ever unearthed. For small cuts and wounds, it hastens healing by aiding the toxins out of the damaged tissues. This also works similarly in soothing insect stings. For larger wounds, the stone's healing action helps control the formation of scars as the wound heals. In much lesser degree, it can also manage to transform and rejuvenate the scars in healing wounds.
Physical Healing Effects
Aside from external wounds, rhodonite is equally helpful with internal wounds. To cure illnesses, it facilitates self-dissolution of diseases like autoimmune diseases, gum disease, multiple sclerosis and stomach ulcers. Anecdotal accounts of its healing benefits include strengthening of heart and circular functions and increasing fertility both for men and women.
Balancing Emotions
Beyond the physical effects of rhodonite are its balancing emotional effects. For a stone that promotes healing of physical wounds and scars, it is also as effective in healing emotional wounds and scars. Circumstances resulting from injustice often overwhelm people with negative energies, which injures emotions and bring about anger and annoyance towards the offender. This condition often leads to self-inflicted injuries like confusion, fear and panic. Emotional healing using rhodonite helps prevent these signs of trauma by bringing back the balance and harmony within oneself.
In simple terms, the positive energies drawn by rhodonite allow a person to maintain a clear and conscious mind amidst extreme situations, threats and danger. This way, it prevents us from causing imbalance due to the urges of taking revenge, which only bring self-destructive effects. In elucidating the meaning or gain of any life experience, it prevents us from making or staying in stressful, tiresome and hopeless situations.
Body, Mind, Spirit Harmony
Healthy mind, body and spirit, this rose colored mineral stone hastens healing and prevents anyone from causing harm or receiving from to and from other people. In times of illness, emotional strife and other difficulties, this stone is helpful in relieving us from dwelling in our negative energies and causing harm to ourselves. In facilitating harmony through mutual understanding and self-awareness of past and potential misdeeds, it facilitates learning and maturity from life.
To keep the significant benefits of rhodonite, the stone needs to be worn near the heart, the center of your systems and energies. With minor injuries, pressing a moistened rhodonite on the wound hastens the healing process. Diluted essences of the stone may also be taken for serious injuries as well as trauma and shock. Overall, this mineral stone is helpful in maintaining clarity of the mind and spirit and physical health.
back to the top of rhodonite healing stone page
Have A Great Gem Healing Stone Story?
Do you have a great gem healing stone story? Especially about this one? Share it!

Don't just build a website, build a web business!
Beauty is just a click away! Visit me, your Independent Beauty Consultant.