Healing Stone Larimar
Larimar belongs to the Pectolite family, specifically the blue Pectolite. Chemically it's sodium calcium silicate mineral, with a triclinic structure, and has a hardness ranges from 4.5 to 5. Calcium is found in mica. Silicate is a silica. Mica and silica are both ingredients of mineral makeup. Blue pectolite is generally found in needle like crystals which occur as a solid mass. These crystals generally have varying and prominent patterns in combinations of blue, green and white. The unique blue coloration of Larimar is the result of cobalt substituting for calcium. Colors have their own vibrational meanings. The color can change to red brown with Hematite impurities. Larimar is exclusively found in Hispaniola in the Caribbean Sea.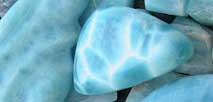 Physical Healing
Larimar is quite useful in a lot of physical ailments and problems. It's great for new mothers both during and post pregnancy. It helps in healing post partum depression and also helps in combating and easing the tensions and the stress which is generally experienced by new parents. This stone helps every one (men and women) to get in touch with their dormant feminine nature and helps them to become more receptive and intuitive. This stone helps in healing high blood pressure and related problems. It also works well in curing problems which are caused due to the presence of excess fire element in the body like infection, inflammation and fever. It helps cool the heat of sunburn. People with chronic colds, excessive mucus formation, flu and sore throat can get a lot of relief from this stone. This can also help in curing problems associated with the cartilage, hair and feet. It's a great stone to use in the ancient techniques of acupressure and acupuncture since it can help in the opening up of the meridians and help in understanding which are the painful spots in the feet which correspond to the problems in the body and aid in complete healing.
Emotional Clearing
Emotionally this stone helps in cleansing and purging all the emotional blockages in the body and removes all the emotional debris from the past. People with emotional problems like phobias, stress related diseases, panic attacks, excessive fear or anger can greatly benefit from this stone. It also helps people in not being judgmental or egoistic. Larimar helps people in understanding their self worth and developing self respect. This in turn leads to self nurturing as well. It helps people in expressing their emotional energy and facilitates communication.
Stress Release
This stone helps in relaxing the mind, body and spirit. It helps in quelling and easing the uncomfortable emotions and also helps in letting go of the unneeded attachments which just cause stress. The feminine power in this stone helps the person to realize the divine aspects of their feminine nature and also helps in becoming confident and relaxed about one's abilities.
Larimar also helps in dispelling excessive and unneeded passions and anger and even helps women in times of hot flashes. It helps in reining the kundalini energies especially when they become too active for comfort.
A Woman's Stone
This stone is particularly effective for women since it helps them to understand and get in touch with their divine feminine nature. It helps women to invoke the latent powers of goddess which reside deep within them to achieve the true purpose in life.
Larimar helps in activating the throat chakra which helps in facilitating true communication and hence is beneficial for singers as well. Apart from the throat chakra it also works well for heart, third eye, crown and solar plexus chakras as well. It corresponds to the zodiac sign of Leo and the numbers 6 and 55.
back to the top of larimar page
---
Have A Great Gem Healing Stone Story?
Do you have a great gem healing stone story? Especially about this one? Share it!
---

Don't just build a website, build a web business!
Beauty is just a click away! Visit me, your Independent Beauty Consultant.