What is Rice Powder and Where does it come from?
A Rice Flower Spikelet (picture from iStock):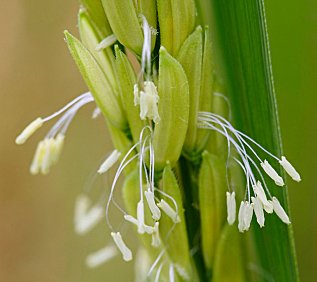 Rice Powder is the refined starch from rice, known as Oryza Sativa. The powder of rice has been used for centuries in the ancient art of Ayurveda, a holistic healing practice. It is used as a poultice that soothes inflamed acne and skin ulcerations. It has been used by Asian women in their facial makeup and to wash their skin since the 16th century. It is considered an emollient rich skin treatment.
In Indonesia, white rice was soaked with spring water until a layer of froth forms on the top of the water. The froth is skimmed off and dehydrated into a powder form. In earlier times, it was noted that field workers would apply the froth to their skin, while working all day in the hot sun, and yet their skin would remain smooth and supple.
Rice bran has a chemical structure similar to ceramide found in the human skin. It has moisturizing and water retaining effects on the skin and increases the production of collagen for younger looking skin. Japanese farmers have known long before scientists discovered, the healing properties of the rice plant, and the effects it has on skin treatment.
Processing for Cosmetics
White rice powder has been used since the 16th century by Japanese Geishas. While the compact form came to be in the 1950's, it's earlier form was used by the Geishas in the form of rice powder that has since been replaced by a white cream. The Hoi Ton white rice powder had a unique formulation that used the curative and exfoliates found in white rice. The powder of rice is a cosmetic grade food starch that has been sterilized and is absolutely safe.
It is also sold in liquid form as Rice water essence that can be used as a cleanser or added to other makeups in liquid form or made into lotions. The modified rice powder is added to mineral veils and makeups for its indefinite shelf stability and healing properties. Modified Rice Powder comes in an inert dry powder form, and is highly used by those who wish to wear a dry powder formula mineral makeup without the itchiness caused by mica based products.
Uses in Makeup
The powder of rice is used in many different forms on the market today. It can be used as facial masks, added to mineral veils and makeups, sold in rice water form as skin cleansers and moisturizers, or lotions. Not only is it a good oil absorber, but because it is slow to absorb, it is good for dry skin. It gives skin a porcelain and shine free finish, just like the Geisha girls of earlier times.
It can be found in loose powders or pressed powder compacts. It is also used in bronzers and natural herbal concealers because of its smooth flowing silkiness. It acts as an emollient and helps to maintain soft, smooth and supple skin.
The Healing Properties of Rice Powder
Rice water and its powder has been used by the Asian culture for centuries as an anti-aging skin formula that protects from the harmful rays of the sun, and leaves skin more radiant. It's emollient and exfoliate properties keep skin cells healthy, while its ceramide increases collagen production to make skin more supple and free of wrinkles.
The healing properties of rice water has been found in ancient Japanese culture by farm workers and sake or rice wine workers. There is a story of an old man that was a sake worker, who had wrinkles on his face, but his hands were as young looking as a young boy's from being exposed to the rice wine formula used to make sake. Asian women have used the rice water and powder to keep skin young and healthy.
While there has been some controversy regarding whether rice powder was involved in acne breakouts, scientists have found that, in fact, the powder of rice actually helps heal acne and skin inflammations, which are actually caused by bacteria produced in the skins pores. Because the powder of rice allows the skin and pores to breathe, while providing emollient and exfoliates to the skin, it does, in fact help cure acne.
The powder of rice and rice water are naturally occurring, anti-aging emollients that give mineral makeups and veils healing power, while camouflaging and softening lines and wrinkles.
For more information on Botanical Minerals, click here.
back to the top of rice powder page
---
Have A Great Story About This Topic?
Do you have a great story about this? Share it!
What Other Visitors Have Said
Click below to see contributions from other visitors to this page...

Historian Not rated yet
You might want to change your stock photo and do a little more fact checking before you publish your assumptions about photographs and the Japanese culture... …
---

Don't just build a website, build a web business!
Beauty is just a click away! Visit me, your Independent Beauty Consultant.
---